Are you looking for romantic places in Delhi? Do you want a place where you and your partner can be alone and spend some quality time together? Here are the Best Romantic places for couples in Delhi:
Looking for a private place/location in Delhi
If you're looking for a romantic place to dine with your partner in Delhi, you've come to the right place. Olive Bar & Kitchen is one of the city's most romantic venues and boasts an intimate seating area and an extensive drinks menu. If you're looking for a private place for couples in Delhi, look no further than this romantic rooftop cafe. With its spectacular terrace setting, this restaurant is popular among Delhiites on a date, and its top-notch cuisine is a great choice.
Garden of Five Senses is another romantic destination in Delhi. This garden, located in the Saidul Ajaib locality, features many themed areas, including a section on Mughal Gardens. There are fountains, water lilies, and even a bamboo court. There are even several restaurants for couples, making it a great spot for an intimate date. And, while you're here, be sure to stop by the garden's cafes and restaurants for some delicious cuisine.
Best & Top place for couples: Five Sense Garden
The Garden of Five Senses is a park in Delhi, India, spread over 20 acres. It is located opposite the Saket district and near the Mehrauli heritage area. A perfect place for a romantic walk, this park is also a good place to spend quality time together as a couple. In fact, it is the best place to take your partner on a date!
Located in a locality called Saidul Ajaib, the garden has multiple themed areas. There are sections dedicated to Mughal Gardens, a bamboo court, a solar energy park, and herb gardens. There are several restaurants within the garden, including Fio and Magique, which are perfect for couples. It is also possible to take a walk through the garden if you're traveling with your significant other.
Perfect for New Couple: Lodhi Garden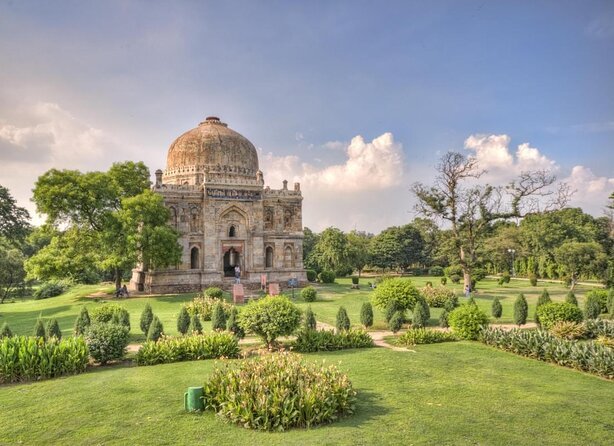 If you are planning a romantic getaway in Delhi, India, there is no place better than the Lodhi Garden. This green space is a favorite for joggers, walkers, families, and dogs, but it turns into a lovers' paradise in the afternoon and evening. It is known for the Bara Gumbad, which is actually not a tomb, but an intricately decorated dome attached to the three-domed masjid.
If you are a new couple, there are plenty of romantic spots to consider in Delhi. This garden is a popular choice because of its beautiful landscape, flowerbeds, and food joints. There are also many other options to celebrate your anniversary, including a beautiful cake. Although the Lodhi Garden restaurant is permanently closed, it is an ideal place for a romantic picnic and a few minutes of making love.
Japanese park – Delhi
If you want to spend time with your partner in a romantic place, then you can take him or her to the Japanese park in Delhi. This park offers a lovely atmosphere and is free for all. It is a popular picnic spot, with plenty of swings for kids and a special children's area. The park is easily accessible by public transport, with the nearest metro station at Swarn Jayanti. The park is also close to several bus stops, including Rohini West metro station.
The Japanese park in Delhi is popular with couples and is one of the most romantic places in the city. There are many reasons to take your partner to this park, but it is especially beautiful if you're looking to spend some quality time together. The park is filled with beautiful flowers, a pond with colorful boats, and a play area for children. You can also enjoy a day with your partner at the park by taking her to one of the nearby amusement parks or malls.
Getting there: A visit to the park is an ideal Valentine's Day gift for your partner. This park is a popular spot for young couples, but it's also popular with criminals and political rallygoers. A plethora of people celebrate Valentine's Day in the park, so you should be prepared for a large crowd. The police are conducting an investigation, and are looking for any suspects in a love triangle.
The Delhi Eye- Delhi
One of the most romantic things you can do with your partner is to ride the Delhi Eye. This popular attraction is located on the JNU campus and is modeled after the famous London Eye, which was featured in James Bond movies. Those who choose to ride the Delhi Eye will be able to see the city from an air-conditioned capsule. The ride is also very romantic and you can spend a day with your partner here.
If you'd rather spend your evening together, there are many places to do so in Delhi. Adventure Island is an indoor theme park that has thrilling rides. This place is also home to other events and entertainment. You can enjoy belly dancing, fire acts, and magic shows here. You can even take your partner to an outdoor show of Bollywood movies! However, booking ahead is highly recommended. After you've made reservations, you can enjoy the ride with your partner.
Another romantic place in Deer Park is the Garden of Five Senses. It has an immaculate landscape and several theme areas, including a section on Mughal Gardens. It also features a bamboo court, water lilies, and herb gardens. There are also several eateries here that cater to couples. It's best to go here if you're planning to visit Delhi with your partner.